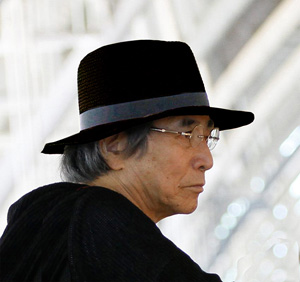 Date of Birth : 1941, in Tokyo, Japan
Diploma : from The Tama Geijutsu Gakuen School of Fine Arts, 1961(Subject : Photography)

1961
Collaboration with Takashi KINEJIMA (Well-known Japanese photographer)

1963
Prix d'Excellence at the APA Exhibition, Grand Prix of ADA,
the advertising magazine

1975
Research into the world of clowns, making dolls and musical boxes etc

1976
Establishment of his メ Pierrot de Pierre メ workshop and his shop in Tokyo

1977
Private Exhibition in the Mikimoto Galleries throughout Japan.
Production of the "Dancing Clown" musical box (which had great international success)

1980
Private Exhibitions in the Mikimoto Galleries throughout Japan.
Production of other models of musical boxes, distributed to twenty countries.
Purchase by the Theatre Museum in Italy of the advertising posters made by him.

1987
Creation of "Dancing Bip " (Musical Box) thanks to the friendship of M.Marcel
Marceau (Member of the Academy of France)
("Bip "is somebody very important and well-known in the theatre of Marcel Marceau)

1988
Establishment of his shop in Salzburg, Austria.
Design of a watch for The German Society.
Production of commercial films

1990
The London store Harrods creates a special corner for "The World of Koji Murai"

1992
Decoration for the theatre production "The Acrobat on the Tight-rope
in the Sky" (a musical) and its costumes.

1993
Establishment of the "Koji Murai Clown Museum "

1994
Grand Prix " Best Design of the Year " at the International Gift Show
Representative at the Exhibition of the paintings of Marcel Marceau in the Hankyu store, Tokyo

1995
Participation in the Art Exhibition "Homage to the Four Seasons "
at the Mairie de Paris and at Bievre.
Five-month stay in London for the purposes of research into theatre, history of the clown, photography and graphic arts.

1997
Opening of the Clown Museum in a village in Yamanashi Prefecture.

1998
Establishment of his workshop next to the Kawaguchi-ko Lake in Yamanashi Prefecture

2000
Design of two drums, 4.8 metres in diameter, for an event to mark the new millenium, 2001
These are the largest drums in the world.

2001
Exhibition in the Ginza Contax Gallery

2002
"The expression exhibition of Koji Murai"s held by the gallery of Ginza Matsuya.

2003
An exhibition with engraver Mr.Louis Derbre representing France is held by the 6th division city Government building gallery of Paris.
Evaluation with the high collaboration of sculpture and a photograph is received.

2007
Private Exhibitions in the Yokohama Doll Museum.